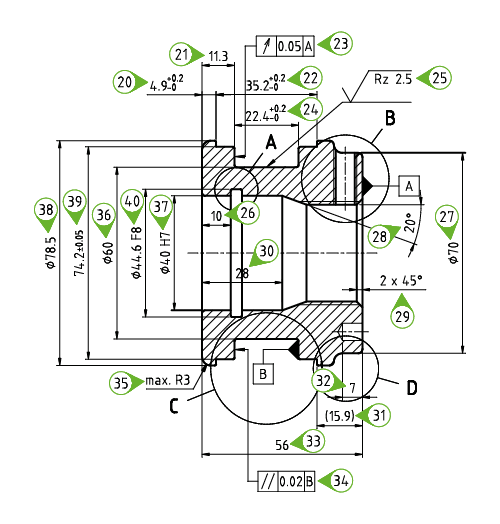 The ideal software for creating quick and reliable quality control plans (QCP) for FAI or statistical process checks from drawings. With
infra - CONVERT
you can electronically VDA stamp your drawing (positioning), thereby indexing all the quality-relevant features in drawings.The ideal software for creating quick and reliable quality control plans (QCP) for FAI or statistical process checks from drawings. With
infra - CONVERT
you can electronically VDA stamp your drawing (positioning), thereby indexing all the quality-relevant features in drawings.
Being able to automatically extract dimensional data from 2D-CAD drawings avoids potential data entry errors when creating QCPs and also saves a great deal of time. The software allows you to capture individual or multiple dimensions from selected areas of the drawing or all the dimensional information from the latter with just a few mouse clicks.
General tolerances and dimensions for engineering fit can be extracted automatically from tables, avoiding the tedium and possible error when searching and entering each value individually.
For drawings in pdf or graphics format the software provides a rapid input dialogue for entering dimensional data into the QCP.
Stamped drawings can be printed, plotted or published as a pdf file. Additionally, diagrams can be automatically produced for each feature planned for inclusion in a QCP, to aid visualization of the measurement task where it is carried out.
The quality control plan can also be exported in CSV format for simple planning tasks in Excel, and in DFD data transfer format (Q-DAS®).
Almost all CAQ software systems include an interface to
infra - CONVERT
allowing you to access drawings from your CAQ system and automatically work up a QCP.
It is also possible to transfer the data from a QCP for an existing drawing to the latest version of the drawing. All unchanged feature data is transferred and you only have to enter the data for features that have been changed.
Users testify to savings of up to 70 %!
Integration of
infra - CONVERT
into more than 20 leading CAQ-software systems confirms its status as the application of choice for quality control planning.
Functional Overview
Drawing formats supported
2D DXF & 2D DWG formats (up to and including Version AutoCAD 2012)
2D IGES (module IGES)
PDF (module GRAPHIC)
TIF, JPG, BMP, GIF and PNG (module GRAPHIC)
Output formats supported
Q-DAS ASCII transfer format (*.DFD)
Microsoft Excel CSV format (*.CSV)
Direct interface to CAQ systems
Features
Manual selection, area selections, automatic search
automatic recognition of dimensions, tolerances, engineering fit, ...
support for general tolerances tables, automatic classification (radius, diameter, surface parameters, geometric tolerances...
automatic or manual classification from drawing views
Stamps
VDA symbol
definitive numbering
assignment of stamp number for each view
manual re-alignment of stamps
manual re-numbering clockwise, XY or multiple stamping of features possible
Features graphics
automatic generation of features graphics
issued with or without stamp
selection of graphic formats
black/white or coloured graphics
variable size and resolution
output of complete drawing and stamp positions in the graphic
System requirements
Microsoft Windows XP or newer+
.NET framework 4.0
current service packs for the operation system
optional: Citrix or terminal server
Example of use
The drawing shows the important functions of automatic features recognition in infra - CONVERT. More information on individual points is provided below.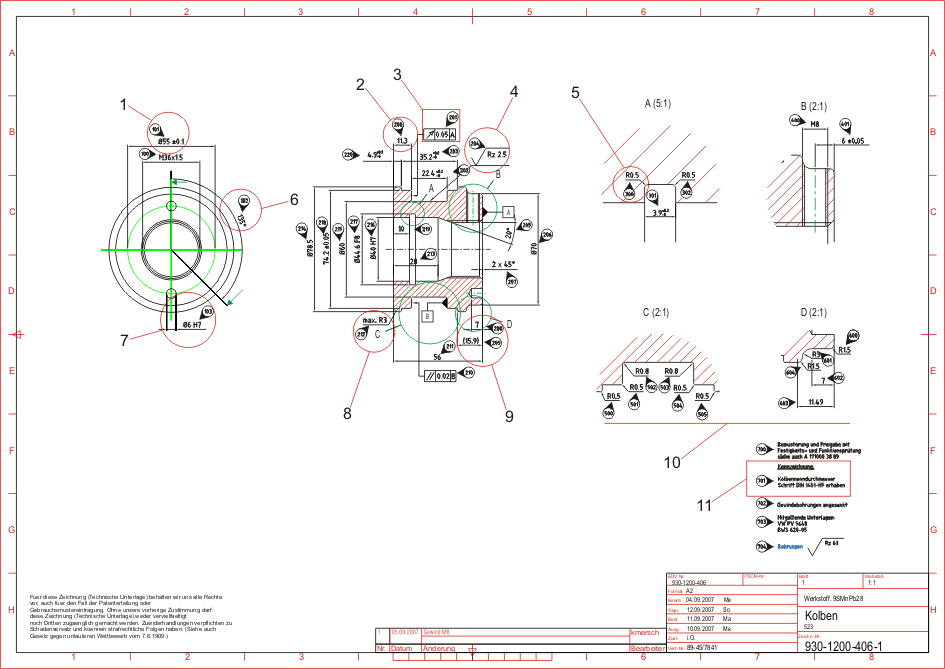 Recognition dimension tolerances
Read-off of upper and lower tolerances from the drawing

Tolerance tables for dimensions lacking tolerances
Dimensions can be automatically determined from the table
Open interface for tolerance table

Geometric tolerances DIN ISO 1101
Recognition of geometric tolerances
Recognition of tolerance values

Surfaces according to DIN ISO 4287/DB N31007
Recognition of surface area properties

Separate tolerance table for roundings and champfers

Separate tolerance tables for angles

Engineering fit, DIN ISO 286 part 2
Resolution of engineering fit for upper and lower tolerances (e.g. H7)

Dimensions with min. and max. values
Recognition with or without issue of upper or lower tolerance

Help dimensions can be ignored during recognition
Selectable recognition with or without general tolerances

Clockwise stamps
Click sequenced stamps
Separate numerial circles per view

Additional numbering
Individual positioning of stamps
Multiple stamps per feature
Features independent of CAD
Info tip Feature recognition depends on the quality of the CAD drawing. ELIAS GmbH cannot be held responsible for any lack of required information in a drawing. Examples cited on the web site are intended as demonstrations of selected functionalities of the product and cannot be used as the basis of any claims or otherwise against ELIAS GmbH. All rights reserved.